The Hip-Hop Summit Youth Council and Power 105.1 celebrate the 10th Annual "Hip-Hop Against Gun & Gang Violence Week" Campaign with 105 Days Of Summer! "The People's Shark" Daymond John, the Hip-Hop, Mental & Spiritual Health Campaign, The "Fitness Sheriff's" Hate The Weight Challenge and the "Guns Down Knuckle Up" Campaign.
This year's theme:
"The Mind & Soul Is More Precious Than Gold"
HIP-HOP SUMMIT YOUTH COUNCIL
Celebrating Their 20th Anniversary
&
HIP-HOP AGAINST GUN & GANG VIOLENCE PROJECT
Celebrating Its 10th Anniversary

The Purpose of the Hip-Hop, Mental & Spiritual Health Campaign is to:
Increase Awareness about the dangers of Mental & Spiritual Illness, and the failure of this nation to address the silent crisis.
Promote how important "Spiritual Enlightenment" can be towards:
a. Improving Public Safety
b. Reducing Gun & Gang Violence
c. Ending Suicide & Homicide by Firearms
Offer solutions and referrals to individuals in need of services.
Address the negative stigma associated with Mental Health by making it cool to ask for professional help.
Work with ThriveNYC, NYS Office of Mental Health, Religious Leaders, Faith-based institutions and other groups addressing Mental & Spiritual Illness.
About:
USING A HOLISTIC & PUBLIC HEALTH STRATEGY TO IMPROVE PUBLIC SAFETY
Poverty, Illiteracy, and Mental & Spiritual Illness are the Root Causes behind most of the social problems we are confronted with daily. These problems include: crime, violence, suicide, homicide, substance abuse, unemployment, dropout rates, obesity, hunger, homelessness, sexual abuse, and human trafficking. Our economy, law enforcement, healthcare and political systems are facing a crisis, which threatens the safety and stability of our nation. To add gasoline to the fire, COVID-19 has increased the chaos and human suffering that divides our nation, making life even worse for those who were already marginalized before the Pandemic. Though our country is great, we have never lived up to our full potential because issues surrounding racism, religion and mental health hinder us from reaching new heights. After 43 years of focusing on the symptoms, we will now use a Holistic & Public Health strategy targeted at the Root Cause of the problem. This new innovative solution is what we need to address the crisis and revitalize America. As the fight against COVID-19 continues and we work towards normalcy, there is so much work to be done. To give you a snapshot of just how bad things are and why we need an overhaul, take a look at the following shocking data. A message to our nation – as the 1989 hit song says: "You're headed for Self Destruction."
Facts:
More people die annually in America from Gun Suicide than Gun Homicide; two-thirds of all firearm victims (24,090) took their own life in 2020.
Suicide is the second leading cause of death for those 10-24 years of age.
Blacks make up 14% of the U.S. population, but account for 58% of homicide deaths.
Firearms are the leading cause of death for children and teens, as well as Blacks.
There were 611 Mass Shootings in 2020; an increase from 417 in 2019.
In January 2021, Gun Sales surged to 4,137,480; the highest month ever for recorded sales. The increase was so high, the nation now has a shortage of ammunition.
70% of youth in the Juvenile Justice System have a diagnosable Mental Health Condition.
51.5 million U.S. adults (18 and older) experienced Mental Illness in 2019, and 13.6% of children (5-17 years of age) had received Mental Health Treatment in the past 12 months.
According to the Pew Research Center, 4 in 10 millennials say they are not affiliated with any religion. 1 in 10 say religion is important; and only 27% attend Church once a week.
Generation Z is the least religious; about 1/3 have no religion at all. The numbers are about the same for Millennials.
Additional Information:
Click here for the Hip-Hop, Mental & Spiritual Health Campaign
Click here for ThriveNYC Mental Health Assistance
Click here for NYS Office of Mental Health Assistance
Click here for info and to join the A-GROUP
Click here to fight obesity with The "Fitness Sheriff" and the Exercise, Diet & Spirituality (E.D.S.) initiative.
Click here to support the Guns Down Knuckle Up Campaign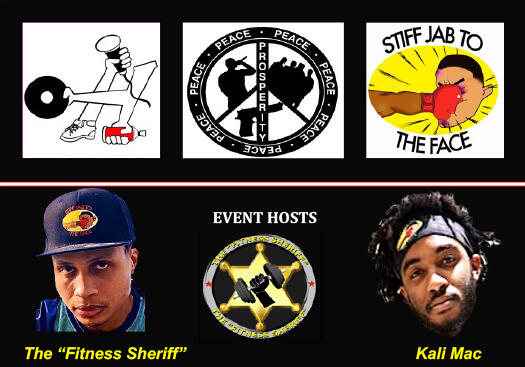 Sponsors:
"The People's Shark" Daymond John; Stiff Jab To The Face; Phoenix Music Group; Big Pander Records