Here's All The Music From Season 1 Of HBO's 'Euphoria'
The season finale of Euphoria aired just days ago and is still leaving fans in a frenzy. Diving into this beautiful and exquisite world created by Sam Levinson has brought the cast and millions of fans on a rollercoaster of amazing acting, incredible visuals, and a fire soundtrack.
The intense and well-plotted storylines were brought to life from the amazing characters which were depicted by Zendaya Coleman (Rue), Hunter Schafer (Jules), Barbie Ferreira (Kat), Sydney Sweeney (Cassie), Alexa Demie (Maddy), Maude Apatow (Lexi), Storm Reid (Gia), Algee Smith (Chris), Angus Cloud (Fez), and Jacob Elordi (Nate). Alongside this strong cast was an incredible crew who were able to bring something new and engaging to Television and audiences around the world.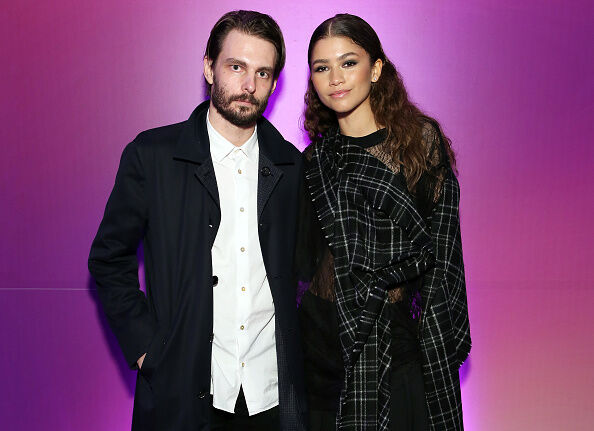 Not only were the storylines brought to life by the cast, but also by the dope music played in each and every episode that added to each scene even more. Below is a list of all the music (courtesy of Billboard) you would have heard while watching Euphoria because I know you were bumping!
EUPHORIA | EP. 1
"Hold Up" – Beyonce 
"Can't Get Used To Losing You" – Andy Williams 
"The Only South I Know" – Kofa 
"Getcha Weight Up Feat. Big Yae" – Rockstar JT 
"Brighter Tomorrow" – Soul Swingers 
"Once Again" – Stratus 
"Beckham" – Yung Baby Tate 
"Home" – Audri and Aaron 
"I'm Gone" – Jozzy ft Tommy Genesis 
"Narcos" – Migos 
"Feelings" – Lil Dude 
"What To Say" – Leo Soul 
"Secrets" – Hass Irv 
"GOAT" – Kenny Mason 
"Cocky AF" – Megan Thee Stallion 
"2 True" – Nesha Nycee 
"I Know There's Gonna Be (Good Times)" – Jamie XX
"New Level" – A$AP Ferg 
"Motivation" – Sam Austins 
"Pusha" – JAG 
"Billy Boy" – $not 
"Run Cried The Crawling" – Agnes Obel 
"Snow Flake" – Jim Reeves 
EUPHORIA | EP. 2
"Stuntin' Like My Daddy" – Lil Wayne & Birdman 
"All For Us" – Labrinth 
"Mount Everest" – Labrinth 
"Pusha" – JAG 
"Release The Hounds" – Jarina De Marco 
"Fly Me To The Moon (In Other Words)" – Bobby Womack 
"Goh (feat. KLP)" – What So Not & Skrillex 
"dead yet" – gabriel black & phem 
"Étude de Concert No.3 in D-Flat Major, S.144 Un Sospiro" – Franz Liszt 
"Even The Nights Are Better" – Air Supply 
EUPHORIA | EP. 3
"All For Us" – Labrinth 
"Nonstop" – Drake
"Work" – Charlotte Day Wilson 
"OKOKOK" – Jaira Burns 
"Smooth Up In Ya" – Bulletboys
"Bangville" – Fredo Bang 
"Champagne Coast" – Blood Orange 
"Good While It Lasted" – Old Man Canyon 
"Taking Responsibility" – Kilo Kish 
"Juicy" – Doja Cat 
"The Purge" – Scarlxrd 
"KenPark (SosMula Solo)" – City Morgue, SosMula, Sickboyrari 
"Drop Top" – Swagger Rite ft Yella Beezy 
"A Prince" – Jorja Smith ft. Maverick Sabre 
"Love Me Right" – Amber Mark 
"It's Over Now" – The Years 
"Swamp" – Futuro Pelo 
"Dancing With Your Ghost" – Sasha Sloan 
"Give Her Some Money" – Maliibu Miitch 
"Gepetto" – Jacquie 
"Hell No" – Von Sell 
"XGon'GiveItToYa"–DMX 
EUPHORIA | EP. 4
"New Generation" – The Universals 
"In My Dreams" – ANOHNI 
"Mount Everest" – Labrinth 
"I Colori Di Dicembre (Laura's Theme)" [from the filmDon't Look Now] – Pino Donaggio 
"John's Theme (Flashbacks)" [from the filmDon't Look Now] – Pino Donaggio
EUPHORIA | EP. 5 
"Lucky Star" – Madonna 
"Malamente – Cap 1: Augurio" – Rosalía 
"Werkin' Girls" – Angel Haze 
"you should see me in a crown" – Billie Eilish 
"So Icy Princess Intro" – Asian Doll 
"Run The Road" – Santigold 
"Fabric" – cupcakKe 
"Same Girl" – Randy Newman 
"Gallows" – CocoRosie
EUPHORIA | EP. 6 
"I Only Have Eyes For You" – The Flamingos 
"All for Us" – Labrinth 
"Professor Finessor" – Bali Baby 
"The Turk" – Pigeon Hole 
"Tempo" – Lizzo ft. Missy Elliott 
"Bubblin" – Anderson.Paak 
"Chain" – Lolo Zouaï(unreleased) 
"Dope House" – Black Oshin 
"151 Rum" – JID 
"Body Baby" – xanprincess 
"Just Me and You" – The Dreamliners 
"Inside Looking Out" – The Animals 
"Love Surrounds You" – Ramsey 
"Fell In Love" – Victoria J x Dre Nello 
"Smalltown Boy" – Bronski Beat 
"Hot" – DODGR
EUPHORIA | EP. 7
"Didn't I (Blow Your Mind This Time)" – The Delfonics
"Eli's Comin'" – Three Dog Night 
"Mister Sandman" – The Chordettes 
"Frutas" – Vel The Wonder 
"Be Minez" – Amandla Stenberg 
"Ready Set Go" – Saint 
"Reverie" – Arca 
"I'm Not In Love" – Kelsey Lu 
"Every Single Night" – Fiona Apple
EUPHORIA | EP. 8 
"Stay Flo" – Solange 
"Rhythm Of The Night" – DeBarge 
"Stay FLYY" – MAESTRO 
"Dancin" – Kash Doll 
"Mi Gente" – J Balvin, Willy William 
"Queen Of This Shit" – Quay Dash 
"Blow The Whistle" – Too Short 
"Euphoria" – BTS
"Dangerous (Oliver Remix)" – Big Data 
"911" – GRIP 
"My Body Is A Cage" – Arcade Fire 
"Loner" – Kali Uchis 
"A Song For You" – Donny Hathaway 
"All For Us" – Labrinth ft. Zendaya
If you watched the last episode then you already know at the end we were all pleasantly surprised to hear Zendaya featured on Labrinth's "All For Us" single. We were all moved by Zendaya's performance in this show, and she did not disappoint on this feature either. Watch the video below for Labrinth and Zendaya's collab.
Euphoria has already been renewed for Season 2 and I know I can't wait for the this amazing journey to continue. Shout out to all the incredible cast, crew, Sam Levinson, Drake for Executive Producing, and everyone else who played a part in this euphoric show.

Angie Martinez
Angie Martinez is recognized as one of the most influential personalities in popular culture and multi-media. Originally known as "The Voice of New York," Angie's nearly 20 years of on-air hosting experience has led her to become the media...
Read more