Eminem Drops New Video For "Fall"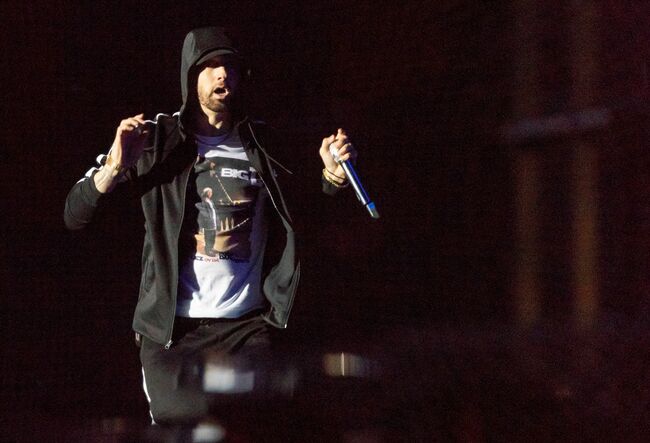 After absolutely blowing everyone's mind when he dropped his new album "Kamikaze" last week Eminem has new visuals to go with the track "Fall". On the song, he makes numerous call outs to staples in the rap game such as Migos, Drake, Dr Dre, Tyler The Creator + our very own Charlamagne Tha God.
On the song he raps:
"Gotta concentrate, against the clock I race
Got no time to waste, I'm already late, I got a marathoner's pace
Went from addict to a workaholic, word to Dr. DreIn that first marijuana tape—guess I got a chronic case (yeah)
And I ain't just blowin' smoke, 'less it's in your momma's faceI know this time Paul and Dre, they won't tell me what not to say
And though me and my party days
Have all pretty much parted ways
ou'd swear to God I forgot I'm the guy that made "Not Afraid"
One last time for Charlamagne
If my response is late, it's just how long it takes
To hit my fuckin' radar, I'm so far away
These rappers are like Hunger Games
One minute, they're mockin' Jay
Next minute, they get they style from Migos, then they copy Drake
Maybe I just don't know when to turn around and walk away
But all the hate, I call it "Walk on Water" gate
I've had as much as I can tolerateI'm sick and tired of waitin', I done lost my patience
I can take all of you motherfuckers on at onceYou wanted, Shady? You got it!"
See the video below
Photo Getty Images

Angie Martinez
Angie Martinez is recognized as one of the most influential personalities in popular culture and multi-media. Originally known as "The Voice of New York," Angie's nearly 20 years of on-air hosting experience has led her to become the media...
Read more