Bridman Apologizes to Wayne During Lil' Weezyana Fest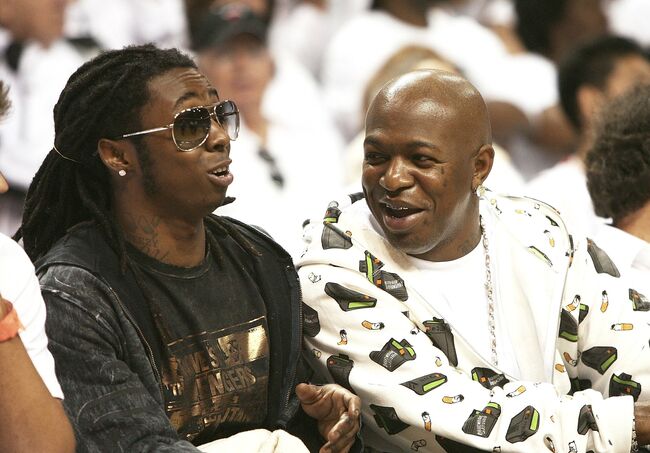 Lil Wayne celebrated the 10th anniversary of his 'Tha Carter III' album over the weekend at his fourth annual Lil Weezyana Fest in New Orleans. Along with celebrating the success of his well-loved album Wayne had another reason to celebrate during his performance at the Bold Sphere Music at Champions Square.
Birdman, mentor and Cash Money Record label owner, gave Wayne an unexpected apology for the issues that were caused between the two a while back.
A long-winded feud between Wayne and Birdman began back in 2014. The beef ignited after Lil Wayne went to Twitter and addressed fan questions on the multiple delays of his 11th, and supposedly last, solo studio album Tha Carter V. The blame for its setbacks were put off on Birdman and the Cash Money Record label.
After two separate $50 million dollar lawsuits and several social media altercations, the former Cash Money Family seems to have made amend.
Birdman took to the stage and let the crowd know:
"It feels amazing to be home fucking with my son, I love that nigga to death. I don't know what y'all know but I know what the fuck I know and I know how I feel about what I know,...I knew this day was gon' come but I ain't know when it was gon' come. But this nigga right chea? The best nigga, the realest nigga, the illest nigga. And I wanted to apologize to my nigga worldwide."
We guess the Young Money, Cash Money team have realized "no one wins when the family feuds".
Check out the apology video below.

Angie Martinez
Angie Martinez is recognized as one of the most influential personalities in popular culture and multi-media. Originally known as "The Voice of New York," Angie's nearly 20 years of on-air hosting experience has led her to become the media...
Read more