The 2018 BET Awards Highlight
Last night was the 2018 BET Awards, which included performances by H.E.R., Ella Mai, Miguel, Migos, Jay Rock, Snoop Dogg, Tye Tribett, Nicki Minaj, YG, 2 Chainz, Big Sean, Meek Mill, J. Cole, Janelle Monae, and the Anita Baker tribute.
The special event was hosted by Jamie Foxx who had no trouble making the crowd laugh. Although he went off script a few times it was only out of genuine excitement to acknowledge people he felt needed the spotlight. He unexpectedly bought Childish Gambino (Donald Glover) who let the audience know he had no idea he was going to get on stage, and Michael B. Jordan who was asked to recite his last line in the Black Panther film.
The audience was blown away by all the fantastic performances throughout a night of such extraordinary Black Excellence. You could tell how hard everyone worked and practiced to pull off both powerful and impactful performances.
This year Anita Baker was awarded the "Lifetime Achievement Award," and a beautiful tribute was put together by singers Jamie Foxx, Marsha Ambrosius, Ledisi, and Yolanda Adams. Anita Baker has provided this world with numerous hits and a soulful voice. She parted the stage with these closing remarks:
"And all I would ask is that the music be allowed to play; That singers are allowed to sing, and rappers are allowed to rap, and poets are allowed to rhyme. And I would ask that the powers that be in the industry, and that all of you that are part of the industry, that we bring more of what we see here tonight. Just a little bit!"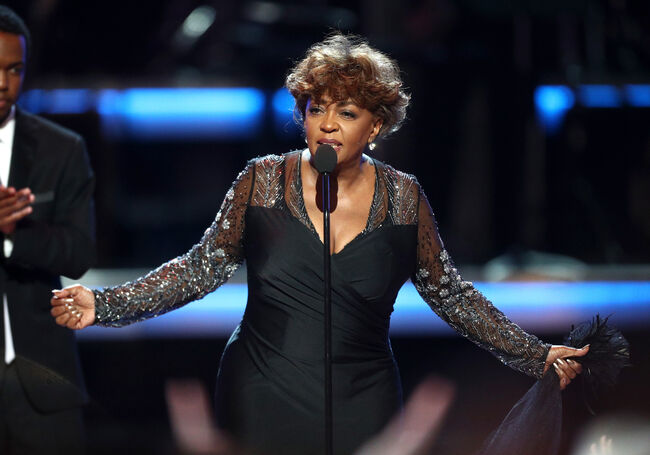 The performances spoke for themselves, each artist providing amazing background story to their songs. Meek Mill, Miguel, and J. Cole each shook the audience and the hearts of the viewers watching from home. If you didn't catch the performances make sure you watch below. H.E.R. and Ella Mai did not disappoint with their performances, hitting every note just right to their hit songs. I literally got goosebumps listening to H.E.R. do her thing!
Congratulations are also due to Debra Lee, who received the "BET Ultimate Icon Award." This is a well deserved award for the woman who has strengthened BET since 1986. While she has stepped down as CEO of the BET Network, her work and leadership will not be forgotten.
This year the categories had amazing nominees. The winners of each category are below:
Best Female R&B / Pop Artist Award: Beyonce
Best Male R&B / Pop Artist Award: Bruno Mars
Best Group Award: Migos
Best Collaboration Award: DJ Khaled feat. Rihanna & Bryson Tiller – "Wild Thoughts"
Best Male Hip Hop Artist Award: Kendrick Lamar
Best Female Hip Hop Artist Award: Cardi B
Video of the Year Award: Drake – "God's Plan"
Video Director of the Year Award: Ava Duvernay
Best New Artist Award: SZA
Dr. Bobby Jones Best Gospel/Inspirational Award: Lecrae feat. Tori Kelly – "I'll Find You"
The Best International Act Award: Davido (Nigeria)
Best Actress Award: Tiffany Haddish
Best Actor Award: Chadwick Boseman
Young Stars Award: Yara Shahidi
Best Movie Award: "Black Panther"
Sportswoman of the Year Award: Serena Williams
Sportsman of the Year Award: LeBron James
Congratulations to everyone who received an award and everyone nominated (because that too is an accomplishment). And to all the heroes acknowledged last night for their accomplishments within the community: Keep doing great. You are assisting in building our future!
What an amazing show it was last night. The Black excellence shown, created, awarded, and acknowledged is just the beginning of our movement.

Angie Martinez
Angie Martinez is recognized as one of the most influential personalities in popular culture and multi-media. Originally known as "The Voice of New York," Angie's nearly 20 years of on-air hosting experience has led her to become the media...
Read more