Rihanna Set To Co-host 2018 Met Gala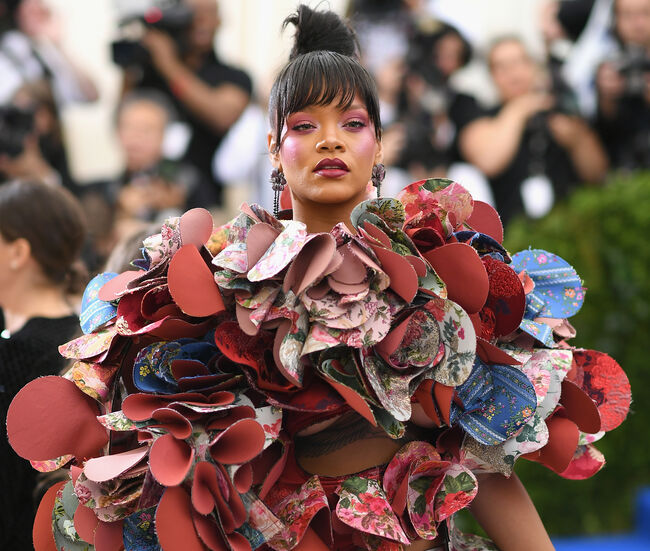 Rihanna has been known to slay the Met Gala events and this year will be no different as she is set to co-host the 2018 Met Gala alongside Anna Wintour, Amal Clooney, and Donatella Versace.
Being a vet to this event, one can only wonder what Ri would wear. Rihanna has made her Met Gala debut in 2007 and has since then attended 7 Met Gala's and performed at twice. The 2018 Met Gala would be her 8th one yet.
The theme of the gala this year is "Heavenly Bodies: Fashion and the Catholic Imagination". This theme is designed to create a dialogue between fashion and the masterworks of religious art that currently resides in the museum's holdings. The show will be presented at various locations: the Anna Wintour Costume Center, the medieval galleries at the Met's Fifth Avenue location, and further uptown at the Cloisters.
Being that the theme is around religion, specifically catholicism, the pope has given the okay for select pieces of the Vatican wardrobe to be displayed. The only thing is that they have to be displayed separately.
Whatever Rihanna wears, one thing is for sure... she will not disappoint!
Take a look at some of Rihanna's previous Met Gala looks.
Source: Getty Images
The "Heavenly Bodies: Fashion and the Catholic Imagination" display will be up between May 10, 2018, till October 8, 2018.

Angie Martinez
Angie Martinez is recognized as one of the most influential personalities in popular culture and multi-media. Originally known as "The Voice of New York," Angie's nearly 20 years of on-air hosting experience has led her to become the media...
Read more