List Of Every "Lil" Celebrity In The Industry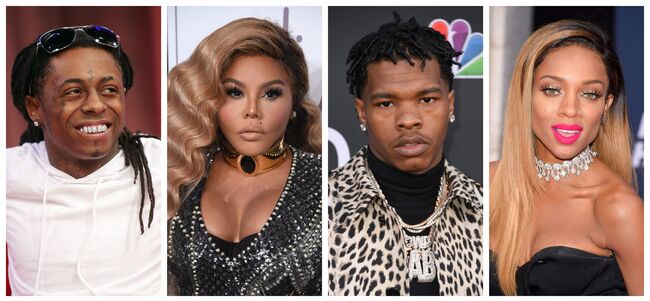 We were just in the studio chopping it up and we got to calling out every single artist that's a "Lil" and boy did we come up with a nice list. So of course we're sharing it with you all just for fun.
While some have dropped the Lil part from their name like Bow Wow and Durk, it's been a permanent part of Kim and Wayne's legendary careers since day one.
Lil' Baby - Dominique Jones / ATL; #1 Hit: Drip Too Hard (2018)
Lil' Bibby - Brandon George Dickinson / Chicago; #1 Hit: Low (2014)
Lil' Bow Wow - Shad Gregory Moss / Ohio; #1 Hit: I Think They Like Me (2005)
Lil' Dicky - David Andrew Burd / Pennsylvania; #1 Hit: Freaky Friday (2018)
Lil' Durk - Durk Derrick Banks / Chicago; #1 Hit: Remember My Name (2015)
Lil' Jon - Jonathan Smith / ATL; #1 Hit: Yeah! (2004)
Lil' Keed - Raqhid Jevon Render / ATL; #1 Hit: Nameless (2018)
Lil' Kim - Kimberly Denise Jones / NY; #1 Hit: No Time (1996)
Lil' Mama - Niatia Jessica Kirkland / NY; #1 Hit: Shawty Get Loose (2008)
Lil Mosey - Lathan Moses Echols / Washington; #1 Hit: Noticed (2018)
Lil Nas X - Montero Lamar Hill / Georgia; #1 Hit: Old Town Road (2019)
Lil Peep (RIP) - Gustav Elijah Åhr / Pennsylvania; #1 Hit: Falling Down (2018)
Lil Pump - Gazzy Garcia / Florida; #1 Hit: Gucci Gang (2017)
Lil Romeo - Percy Romeo Miller / Louisiana; #1 Hit: My Baby (2001)
Lil Skies - Kimetrius Foose / Pennsylvania; #1 Hit: Life of A Dark Rose (2018)
Lil TJay - Tione Merritt / NY; #1 Hit: Pop Out (2019)
Lil Tecca - Tyler-Justin Anthony Sharpe / NY; #1 Hit: Ransom (2019)
Lil Uzi Vert - Symere Woods / Pennsylvania; #1 Hit: XO Tour Lif3 (2017)
Lil Wayne - Dwayne Michael Carter Jr. / Louisiana; #1 Hit: Lollipop (2008)
Lil Yachty - Miles Parks McCollum / Georgia; #1 Hit: iSpy (2017)
Lil Xan - Nicholas Diego Leanos / CA; #1 Hit: Betrayed (2017)
If you can think of any "Lil" person we left out, send a formal submission to our corporate headquarters 😂