6LACK Releases Sophomore Album 'East Atlanta Love Letter'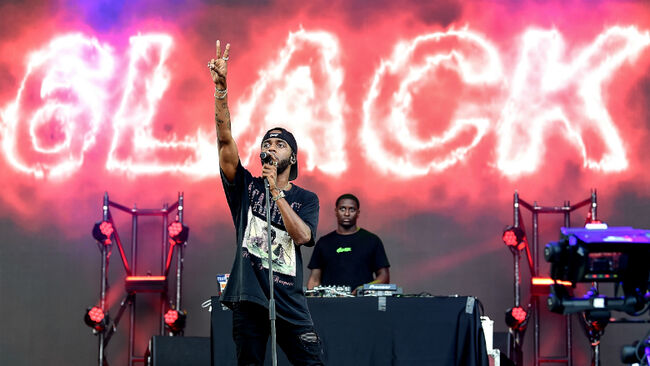 6lack has the perfect love letter for anything that's lost or will be. Two years after the release of his debut album, Free 6lack, which was nominated at the 60th Annual Grammy Awards for Best Urban Contemporary Album, the 26-year-old singer and rapper released his sophomore project, East Atlanta Love Letter, on Friday (September 14). The 14-song album features collaborations with Future, Offset, J. Cole and Khalid, and is all about lost love.
"My new album, east atlanta love letter, is out and i hope you guys enjoy it," 6lack announced on Instagram. "this is a continuation of a story i started two years ago and to even be talking about a second project is a blessing. i don't have any expectations, i didn't make this for any awards (but y'all are welcome to nominate a ni**a 😂), i just did what came natural with the help of my amazing friends who happen to be producers. the only thing i think of everyday i wake up is making music that encourages people to feel and grow and communicate."
6lack also dedicated the album to his one-year-old daughter, Syx Rose Valentine, who he shares the album's cover with. "I want to thank my daughter who can't read this, but everything i do is for or inspired by you. i want to lead by example and leave behind the story of a father who not only loved you, but loved what he did, and served a purpose bigger than himself. i came a long fucking way from having nothing and i will never take it for granted. there's so many people i want to thank but i don't want to miss anyone. you all inspire me. let's take this sh*t as far as we can. #eastatlantaloveletter."
The Maryland-born artist's "East Atlanta With Love Tour" kicks off next month in Johannesburg, South Africa. 6lack plans to hit 34 cities from four countries between October and December.
6lack's East Atlanta Love Letter Tracklist
1. Unfair
2. Loaded Gun
3. East Atlanta Love Letter (feat. Future)
4. Let Her Go
5. Sorry
6. Pretty Little Fears (feat. J. Cole)
7. Disconnect
8. Switch
9. Thugger's Interlude
10. Balenciaga Challenge (Feat. Offset)
11. Scripture
12. Nonchalant
13. Season (feat. Khalid)
14. Stan
Photo: Getty Images