New DJ Envy Album Is On The Way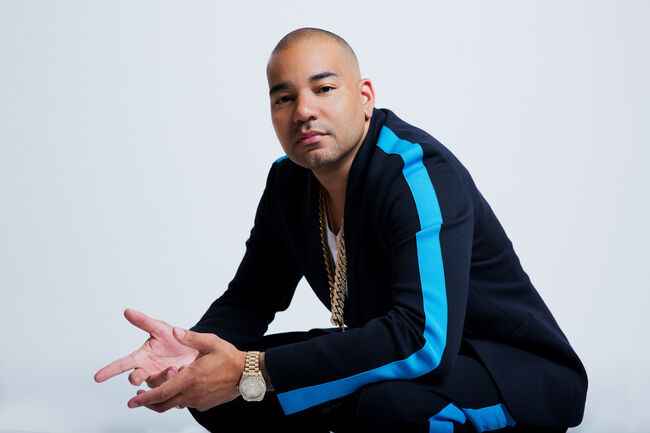 DJ Envy is gearing up to drop a new album: Just a Kid From Queens is set to drop in 2018, with features from the likes of A Boogie Wit Da Hoodie, Fetty Wap, Fabolous and more.
Envy caught up with XXL to talk about his evolution as DJ, trusting his own kids to help him pick his singles and how the role of a DJ has changed:
XXL: You've got a new album coming out. Just a Kid From Queens. Congratulations. Tell us about it.
DJ Envy: Thank you. The name of the album is Just a Kid From Queens. I came up with that title because when I grew up in Queens, I never expected any of this. I majored in marketing and business management and I always thought I'd graduate school, get myself a Wall Street job, something like that. And I told myself I'd give myself a year to do music and then everything just took off so, it's just like, damn, I'm just a kid from queens who actually made it. So I just want people to know it doesn't matter where you're from. You could be from Baltimore, Delaware, Brooklyn, Chicago, St. Louis, hard work and persistence will get you there so that's why I named it Just a Kid From Queens.

It's dope because it's given me new life when it comes to making albums. I get bored real quickly. That's why I do so much because if I always think if I'm doing nothing I feel useless, so I always need to move. So when Commission came and approached me about doing an album, a bunch of labels came up to me who wanted to do a partnership. They said, "You can do whatever you want. We're not rushing you, we don't care if it takes you 10 years to make an album. Just do it how you want to do it." And so I said, "Alright, bet."

We did the deal about nine months ago, and then they hit me like, "We haven't heard from you." And I was like, "You said I could do it the way I want." And that's when we came with this Fetty Wap record. They were surprised like, "This is not the type of record we were expecting" and I said, "I didn't want to do the type of record you were expecting."
Yeah, "Text Ur Number." It has a Jersey club vibe. Why did you want to go that direction with the first single?
You know, I've done records with Fabolous, Jadakiss and JAY-Z and all that. I wanted to come with something left. And I came up with the concept because I DJ everywhere. I DJ in Miami, in Ibiza, in Dubai but then I also DJ in the grimy strip clubs in New Jersey and the holes-in-the-wall clubs in New York and I really wanted a record that could transcend over all those platforms. If I'm in Vegas I could play it. If I'm in Jersey I could play it. And Fetty Wap was the perfect artist to do this because back when he did "Trap Queen," that was a hood song but it had huge commercial success.

I've been living in Jersey for about 15 years now. Jersey music is big, Baltimore music is big and it's the kids, they're the ones on Spotify and Apple and Tidal. They don't buy music anymore, they stream. So I had about four or five records done. I played them all for my daughter, she's 15, and right away she was like, "Dad, that's the record. I can dance with my White friends to this and I can dance with my Black friends to this."

And you spoke about artists cutting DJs out of the release process. What do you think is the role of the DJ in hip-hop right now?

I think the DJ has always been the one to break the record. An artist can try to stay away from the DJs as much as possible, but you need the DJ to break that record if not on radio, then in the club. It has to be one of those things… I think the DJ is respected but I think any DJ has to make himself as big as they possibly can so they're always respected.

That's why I always try to have my foot in every door that I pretty much can. Whether it's the podcast world or it's the on-air world or the mixshow world or it's the club world or making albums world. You really want to make it so that an artist needs you and not needs them.