Jesse Williams Talks Japril, BET Awards Speech, Donald Trump + More!
Author, actor and activist Jesse Williams stopped by the AT&T studio to talk to Angie Martinez.
"Japril the Sequel", which is a special episode of Grey's Anatomy, was directed, written and narrated by Williams.
He also opened up about self love, his BET speech and Donald Trump's America.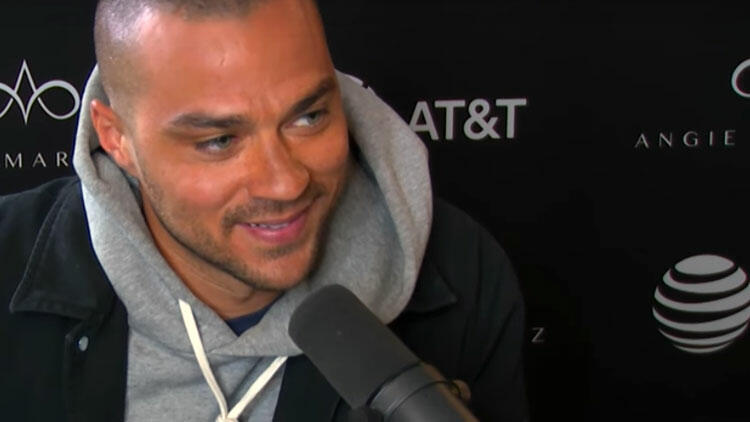 He also talked about:
How he would rather be known for his activism than modeling. "If theres 50 things I could be doing, it wouldn't be posing for photographs".
His speech during the BET Awards and how impactful it was.
What he did after his BET Awards speech. "I didn't look on the internet for ten days afterwards"
Being a role model for people of color. "...there's a weight and there's a presence balancing the incredible amount of love."
Deciding to be a celebrity that uses his voice. "People like to get up on stage, thank god and leave. I think people appreciated someone not doing that".
People breaking down barriers.
He talks about "Time:The Kalief Browder Story" and the American jail system.
Jesse spoke about the importance of self care and having time for yourself.
He talked about Ferguson. "Those are the people making the crazy sacrifice".
Both Angie and Jesse discussed the Day Without a Woman march.
Jesse spoke on creating art and film and the importance of creating.
He talked about his amazing company Ebroji that is on iOS and Android.
He went in depth about Grey's Anatomy's "Japril the Sequel"
He talked about what he believes President Barack Obama thinks of him
About if he feels the need to hold back his words. "I just think it's a waste of time to say words that have no meaning".
Who should run for President in 2020
He gave his opinion on Donald Trump and his administration.
What he is excited about in Trumps' America.

ON AIR: Weekdays 2PM-6PM

Angie Martinez is recognized as one of the most influential personalities in popular culture and multi-media. Originally known as "The Voice of New York," Angie's nearly 20 years of on-air hosting experience has led her to become the media trailblazer she is today: multimedia host, spokeswoman, actress, recording artist, entertainment personality, author and philanthropist. Known for her signature laid back style of interviewing, Angie is well respected — and praised — for her unique ability to get up-close and personal with larger-than-life personalities. Her storied experience and poise on the airwaves while interviewing such global icons as Bill & Hillary Clinton, Derek Jeter, Spike Lee, JAY Z and Beyoncé resulted in Martinez adding Special NY Correspondent for Extra TV to her current scope of work, where she has (so far) worked alongside Oprah Winfrey, Lady Gaga, Robert DeNiro and more. In addition to her professional work across the media landscape, Angie has become a passionate cultural voice for her community and fan base through HealthyLatinEating.com, which she founded in 2014 to share her love for — and support of — healthy Latin cuisine. And most recently, Angie dedicated herself to training for and completing the 2014 TCS New York City Marathon in support of The PitCCh In Foundation, where her team raised over $200,000 to benefit inner city youth. Fans can tune into The Angie Martinez Show on New York's Power 105.1, weekdays from 2pm - 6pm, and on Miami's The Beat 103.5, middays from 10am–2pm. Fans can also access The Angie Martinez Show through iHeartMedia.com and the iHeartMedia app.